L.BERNARD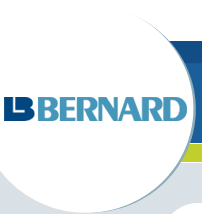 Company L. BERNARD S. A. designs and manufactures electric actuators, which are primarily used for working with valves. The company was founded in 1936 in Paris Lutsien Bernard. In 1998, L. BERNARD become the fourth leading company in the world in production of industrial motors. With annual sales of EUR 25 million and approximately 250 employees of the company L. BERNARD currently represented by 27 trade and service centers around the world and in China, Korea, Malaysia and Singapore. Manufacturing drives in China is based on the license. The company's goal is to produce drives that are optimally close to the specific requirements of customers. At the same time as possible should be achieved a high level of specialization, which means that for specific applications by L. BERNARD will be made suitable drive.
DEUFRA — German subsidiary sales and service company of L. BERNARD, founded in 1969. DEUFRA with the number of employees in Germany, 20 people with an average annual turnover of EUR 5 million and its own storage facility for storage and marketing drives, e-mail. engines and spare parts. With this ability is achieved by reducing the delivery time from 2 to 4 weeks. The presence of 24-hour service covers all service sectors and the needs of our customers. In Germany, currently working in more than 200 000 companies drive L. BERNARD.
Product of L. BERNARD S.A.
QUARTER-TURN [SD Range]


(from

от 35 to 4,000 N.m)
MULTITURN [ST Range]
MODULATING
FAILSAFE
INTEGRAL+ [Integrated controls]
INTELLI+ [Intelligent controls]
MINIGRAL+ [Simple integrated controls]
FIELDBUS CONTROLS
INTELLI-POCKET